Autonomous learning
18 January 2022
5 min.
5 skills to develop to thrive during a pandemic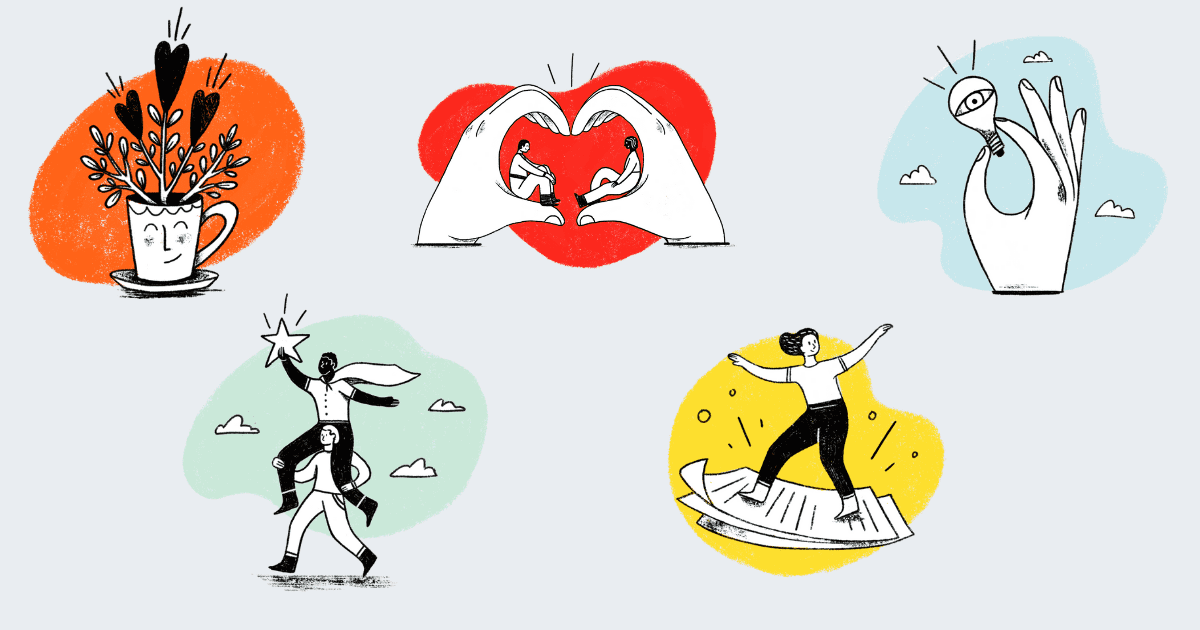 As the pandemic began, we felt that many organizations and teams were looking for more support during this period. While our toolbox already offered practical solutions for specific situations, we decided to go further and develop ready-to-train kits and training paths on certain skills. Transforming organizations requires a sustainable increase in soft skills within teams, and by the same token, in management practices.
Today, we share the first 5 topics that we have developed for this purpose and that we believe lay the foundation for thriving as an individual, team, or organization in turbulent times.
Kindness: a boost of optimism and good vibes
Kindness is the ability to do good to others without expecting anything in return. This may seem obvious and you might even think that it comes naturally to all of us. However, demonstrating kindness at work is not as simple as you might expect. First of all, being nice has long been perceived as a sign of weakness and an obstacle to career advancement. Fear of judgment and comparison with others are further barriers to kindness.
However, it has been demonstrated that teams where kindness prevails are much more efficient. In kind teams, genuine exchanges take place and listening skills are improved.
In fact, kindness is one of the essential conditions for creating a safe work environment in which everyone can thrive. This is even more true in difficult times such as the current pandemic.
Isn't it more pleasant to work in a team that understands, for example, that working in isolation or with children is not always easy? This is what developing kindness at work allows.
Trust: the root of a healthy work environment
Trust is the source of success for teamwork. How can we work together properly if there is no trust? In a pandemic context, we see each other less often. As a result, it is easy to be needlessly worried and to have incorrect perceptions.
A lack of trust leads to micromanagement (conscious or unconscious), stress, negative feelings that can affect our wellbeing. When we don't trust someone, we distance ourselves from them. We also hesitate to share our questions, doubts, and new ideas. If efforts are not made to improve trust, the work climate can quickly deteriorate.
Consider the situation for someone who joins a team and has not yet had the opportunity to meet their colleagues in person. How do you inspire them to stay if they feel a climate of mistrust rather than trust? When you know how difficult it is to attract and retain talent, developing this skill is certainly worth the effort!
Psychological proximity: to feel close again
Feeling close to your colleagues is important! For many people, one of the most difficult aspects of the pandemic has been the loss of psychological proximity with colleagues. People go to the office less (or not at all) and, as a result, they see and talk to their colleagues less often. And yet, office relationships are also one of the reasons why we like our work (or not)!
This is normal: social affiliation is part of the basic psychological needs of human wellbeing.
How can you recreate a social connection with your colleagues when you can't see each other except by video conferencing during scheduled meetings? Or when the frequency of meetings is drastically reduced?
However, out of sight does not mean out of mind! There really are concrete strategies to re-establish these bonds and enhance psychological proximity with colleagues. With a good action plan and good practices, we can feel close, no matter how far away we are!
Proactivity: moving forward
Being proactive means showing initiative and suggesting solutions and changes to move forward. Proactive teams are innovative, creative and, above all, have a strong capacity to reinvent themselves.
In a constantly changing environment, such as the pandemic, having the ability to be proactive allows you to be active rather than reactive. And that's essential because it can be easy to slip into isolation and inaction when you are at a distance.
Proactivity is also a key leadership skill. Moreover, it has been noted that in proactive teams, the level of engagement is higher. Need to mobilize the troops? Be proactive!
Learning: towards a unique culture
If learning was one of the first topics we wanted to highlight, it is because when you know how to learn, developing new skills, adapting, and reinventing yourself is easier.
Learning is about implementing the conditions for success so that employees and managers become great learners. It also stimulates professional development and motivation. Indeed, in organizations that focus on learning, the level of engagement is higher and this is crucial in a world where gloom is around every corner. These organizations are also more agile and profitable.
Developing learning doesn't happen overnight, but with the right approach and the right tools, the process is enjoyable and fruitful.
These 5 themes are, in our opinion, among the key skills to master in order to thrive and perform despite major changes such as the Covid-19 pandemic. But they are not the only interesting skills to develop. It all depends on the issues you want to address and the maturity level of your teams with respect to each skill. That said, one thing is certain: soft skills are the key competencies of today. So, are you ready to take a step towards a more human and efficient world of work?