Autonomous learning
31 March 2022
5 min.
Learning organizations: 10 inspiring learning practices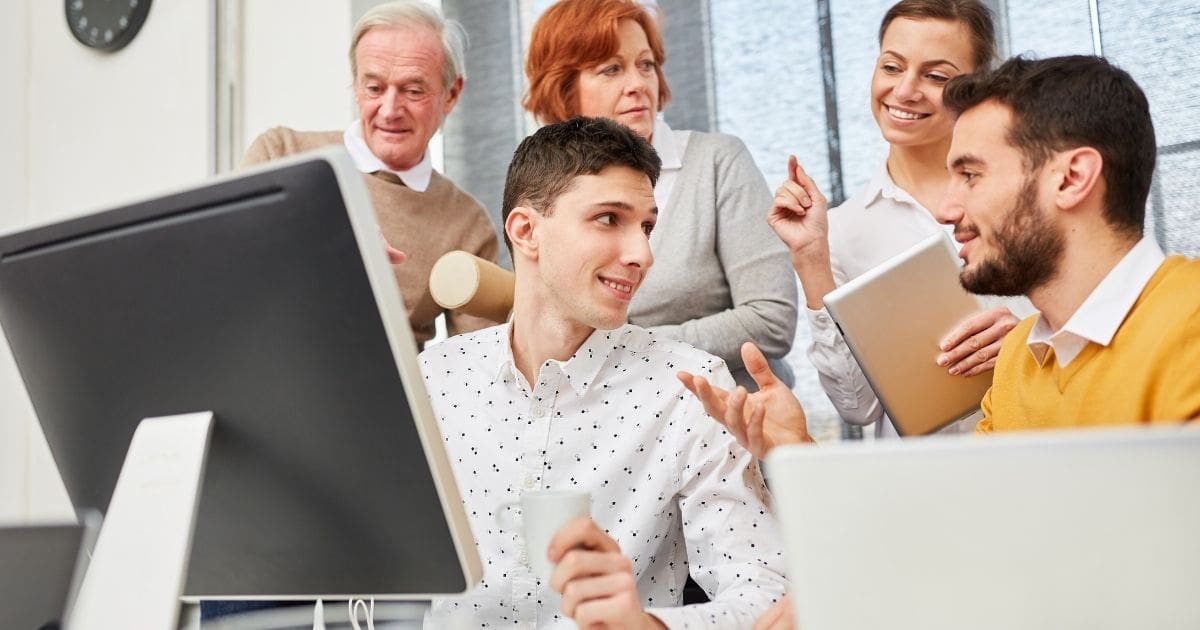 Beyond traditional training, there are many opportunities to learn and train in the workplace. And in learning organizations, this is a very ingrained philosophy and is what allows them to better develop skills and be more resilient!
In this article, we share with you 10 learning practices of learning organizations in the hope that they will inspire you to take your organization even further in developing skills.
What's a learning organization?
Before we share these 10 learning practices with you, let's first understand what a learning organization is. A learning organization is one that provides an excellent practice ground for everyone in the organization to work not only to do their job well, but also to become a better version of themselves, based on their aspirations, the aspirations of the team, and the aspirations of the organization. As an adult, we continue to learn and one of the best schools is at work and in learning teams!
10 inspiring practices of learning organizations
Practice #1: Independent feedback
Before spreading to all of a company's activities, learning practices must first be integrated by its employees. Independent feedback is a good example. It involves making each team member responsible for taking stock of their professional development, their aspirations, their strengths, their areas for improvement, etc. This practice serves as a kind of GPS, allowing you to see where you want to go, to discover what you need to get there. And we encourage you to do this practice on a regular basis, not just once a year during the performance review.
Practice #2: Taking a step back
In order to gain insight into the processes in place and how to improve them, learning organizations are used to taking time out from routine operations. This can be as simple as scheduling a postmortem meeting following the end of a project, or even getting out of the workplace by organizing a retreat. The important thing is to get together, as a team, in a context that changes your daily routine.
Practice #3: Setting up labs
When you think of a lab, you likely think of learning. More and more organizations are offering their employees learning spaces in the form of labs, where they can come together, either in person or online, to learn more about a topic of interest or to conduct research that will help them innovate in their field. It can be an incredibly interesting context for bringing together people who don't normally work together to generate brand new ideas!
Moreover, it is also with this philosophy in mind that the name Boostalab was chosen: we want to be a generator of ideas that makes organizations more human and efficient.
Practice #4: Creating a "pool" of special missions
Another interesting learning practice is the mission pool, which allows employees of learning organizations to use their strengths and abilities by working on a mission that is different from their usual tasks and mandates, all on a voluntary basis. Some companies make time available on a regular basis for employees who want to work on a special assignment.
Practice #5: Launching lunchtime conferences
Convivial and unifying, lunchtime conferences, or lunch-and-learns, are simple and inexpensive to organize. It is an excellent way to deepen your knowledge in a field of interest. It can also be interesting to ask employee volunteers to prepare and present the content of a lunch-and-learn session after they have mastered new skills or tools through specific training or through another learning practice listed here.
Practice #6: Taking stock regularly
People tend to do a review at the very end of a project. Why not get into the habit of planning reviews along the way? It allows you to see where you are, what is working, what is not, if you are lacking resources, etc. The benefit is that you can adjust as you move forward, while there is still time to improve in order to reach your objectives.
Practice #7: Testing and giving yourself the right to make mistakes
In a learning organization, trials are celebrated as much as successes. It is through trials that we are able to see what works and what does not. It is an opportunity to innovate and change processes that are out of date. We prefer to talk about trials rather than failures, as Mandela said so well: "I never lose. I either win or I learn.
Practice #8: Drawing on the right resources
Resources can take many forms: practical guides, conferences, web platforms, self-assessment tools, social committees, etc. Making a maximum of resources available to employees not only promotes learning but also autonomy in the learning process. In a learning organization, employees are empowered and know what resources to look for to help them achieve their goals.
Practice #9: Setting learning challenges
The strength of learning organizations is the ability to learn together. At Boostalab, we believe that one of the best ways to activate this capacity is to launch transformative team challenges. A good team challenge encourages the autonomy and responsibility of each individual with respect to their professional development. This propels the development of individuals and the team in their daily work and mobilizes them.
Practice #10: Providing the right tools
What if there was a platform that allowed all employees and managers to access the best resources, take charge of their professional development, help each other grow, challenge each other in transformative ways, and better manage skill development and performance, would you take it? The best learning organizations don't hesitate to equip themselves with the best tools to help their teams develop even better. With the right tools, you gain time, efficiency, performance, profitability, and of course wellbeing!
So, which practice would you like to implement?