At Boostalab
26 October 2021
5 min.
Meet Lionel, Business development manager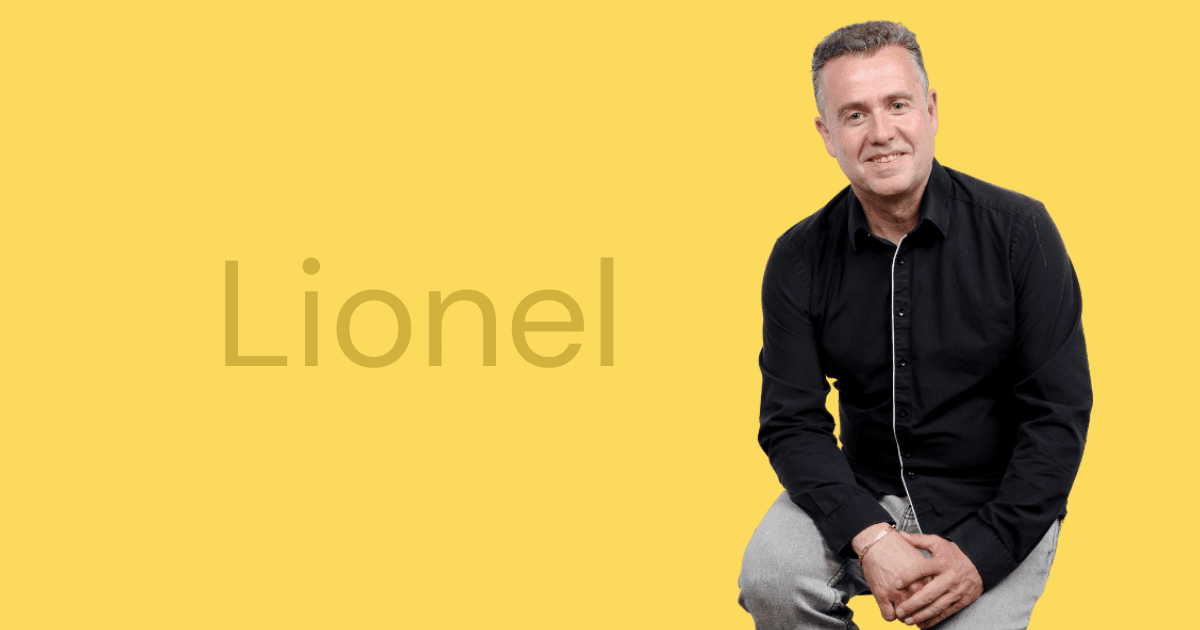 Each month, we introduce you to a Boostalab member or collaborator. And this time, it's Lionel Lebreton, our business development manager, who's up for the challenge. He's also the guy we go to when we need to name something. We owe him the names of our ready-to-train kits as well as the nicknames of our internal teams!
Hello Lionel. Can you introduce yourself in a few words?
I am the one who has to make a good first impression on our potential clients.
I'm lucky… at Boostalab, people often know us before they talk to us and they seem to find our trademark "out of the box" attitude very appealing!
What were you doing before you came to Boostalab?
I worked for several years in business development in the software industry. I have also been in both the food and travel industries.
The positions I've held have been in both marketing and sales. But my favorite part is really creating and nurturing authentic relationships. I enjoy interacting with new people and building trust.
What drew you to Boostalab?
The exceptional work environment and the company's mission are completely in line with my life mission! Indeed, my goal in life is to learn to be a better version of myself and this is what we promote at Boostalab.
Could you explain more concretely and in detail what you do at Boostalab?
On a daily basis, I interact with clients who approach us and want to learn more about our autonomous learning solutions. My role is to understand their needs and find the most appropriate solution to help them with their human resources issues.
I am passionate about discovering the different realities of these organizations and guiding them to create a more positive work environment. I feel a great sense of pride when we work with organizations and the participants are delighted by the unique Boostalab experience.
Finally, I am also working to create high-impact partnerships with various organizations and industry players to take us even further in building our ideal world of work.
Which Boostalab value resonates with you the most and why?
Wellbeing. For me, work should above all be synonymous with the pleasure of teamwork. This is exactly what Boostalab provides me with today because we have a lot of fun together.
What does your workspace look like?
My workspace is simple: a large, bright, open-plan room with large windows that sometimes blind my colleagues during remote meetings!
What's your favourite breakfast?
A good hearty brunch with eggs, sausages, ham, potatoes and pancakes. But that's not good for my cholesterol levels 😉
Favourite cocktail?
The Mai tai is an excellent cocktail made with rum, curacao, orgeat, and lime juice. I recently learned that it comes from the Tiki and Polynesian cultures. The word Mai tai means "excellent" in Tahitian.
Are you sporty? And if so, what is your favorite sport and why?
I like many different sports. In fact, I trained as a dragon boater for 10 years. I have also played tennis since I was 13 years old. I regularly cycle and walk. You could say that I thrive on diversity. Each activity brings its own pleasures such as relaxation or contemplation of nature. Being close to nature also gives me a lot of wellbeing and allows me to escape.
But what I also like about sports is the effort and the collective goal. In fact, I think you could compare the business world to a sport. To succeed, you have to give it your all, but above all you have to converge your actions towards the same goal. Teamwork is essential to achieve a result. But all this must be done without neglecting enjoyment and happiness!
You couldn't do without…
The sun, most likely. Sunlight has a big impact on my state of mind. I also tolerate hot weather very well. If one day, palm trees grow in Quebec, I won't complain!
If you could meet anyone, who would it be?
Grendizer… sometimes I want to visit other galaxies! 😉
What is the book that changed your life and that you could recommend?
Relation d'aide et amour de soi by Colette Portelance. I never imagined that one could learn so much about oneself.
Can you share a vulnerable moment or a moment that taught you a lot?
I recently took a course to become a counselling therapist. For many months, I learned what it was like to put myself out there in front of a group and accept myself as I am. A real revelation for me!
Tell us a surprising story about you that you haven't revealed yet.
I have a passion for Asia and especially Thailand. But I also love Latin music and I'm a real salsa lover!
If we want to follow what you do, where can we find you?
You can easily follow me on Linkedin. I am there and I post regularly.