At Boostalab
31 August 2021
6 min.
Meet Josianne, Learning experiences facilitator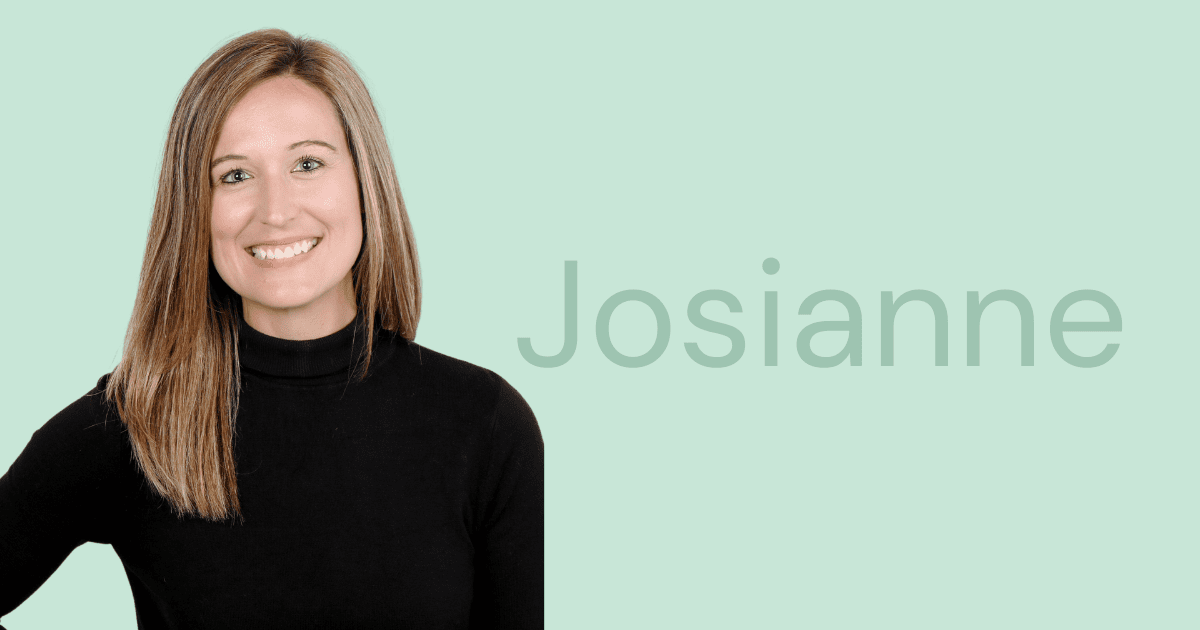 Each month, we introduce you to a Boostalab team member or collaborator. This month we introduce you to Josianne, Learning experiences facilitator, leader of our social committee, and our Thursday meditation sessions!
Hello Josianne! Can you introduce yourself in a few words?
My name is Josianne Martel and I am versatile. That's it! When I chose to join Boostalab, I intended to do a little bit of everything… and that's what I try to do every day.
What were you doing before you came to Boostalab?
I worked in OD (Organizational Development) and training in various organizations in the entertainment sector. I first landed at Cirque du Soleil after my studies. Having been a gymnast when I was younger, I flourished there for several years.
I had the chance to grow, to travel around the world to give leadership trainings, and to meet extraordinary people like Solime, Mélanie, and Marie-Eve.
I also had an exciting stint in the world of video games by joining a passionate team for a few years.
What drew you to Boostalab?
First of all, the people! Over the years, I've discovered how important it is for me to feel close to my colleagues and to have some serious fun (as Solime would say!).
Although we work in a flat structure — without a boss, which provides us with a lot of latitude — I feel a tremendous amount of collaboration and support from my team on a daily basis.
Despite the distance, despite the projects that I carry out independently, I never feel alone! Boostalab's culture of kindness and performance, as well as its mission, make me want to stay here forever! As I often say, I have found my dream job.
Can you explain more tangibly and in more detail what you do at Boostalab?
My days are very different from one another but one thing is for sure, I talk and laugh with my colleagues every day.
I facilitate training workshops and even better I co-facilitate them with my colleagues! Then I design and create the training workshops. I write topics that are part of our interactive paths. I also create new guides.
In addition, I use my network to attract new talent.
On top of that, I manage projects, meet clients and help spread the word about our wonderful company…
But that's not all! I am also the "VP" of wellbeing and "Co-VP" of the team's social committee ;).
I've always been a generalist at heart… I like to do different and varied things. I can say that I am faithful to my habits and, lucky for me, at Boostalab, we encourage people to work to their strengths!
Which Boostalab value resonates with you the most and why?
This is a very difficult question, I always hesitate between growth and wellbeing. So I'm going to cheat and say both!
I like to push myself and go the extra mile while taking care of myself. For me, being in the thick of things, having exciting projects, and following up on them are all super important.
However, I make it a point (no, a pleasure!) to sprinkle my days with moments to pause, to be mindful, and to check in with my energy level.
What is a Boostalab practice that you love and would like to share?
The morning gifs! Seriously. Nothing starts the day better than this. I sometimes laugh until I cry, plus I get valuable information about the mood of my friends/colleagues.
What does your workspace look like?
I made a conscious choice to have a small desk! Because I don't want it to be cluttered. So that means minimal decoration:
A beautiful mug
Some essential oils
A mouse pad to suit my taste
Two books to raise my second screen
A notebook (because I still like to take some handwritten notes in addition to my OneNote)
And a pencil holder that I painted myself
That's it! I tidy up my workspace every night so I can think clearly when I start my day the next morning.
Your favourite breakfast?
I am a big fan of natural peanut butter! On an apple, on good fresh bakery bread, with or without banana or jam, with eggs and bacon on weekends. I like all the versions. I would definitely pack some in my suitcase if I were moving to a desert island!
Your favourite cocktail?
The Quebec gin and tonic! I always like to discover new ones. We are lucky because we are the kings of gin in Quebec!
Are you sporty? And if so, what is your favorite sport and why?
I have always been the sporty one in my family! One of my greatest accomplishments was encouraging my father to run his first 10K at age 67 when he had never run in his life. What a great moment!
Otherwise, my favorite sport is hiking. I love being out of the city, on the trails (quietly or not), and reaching new heights. It makes me feel like I can breathe better and that the world belongs to me 😉 Otherwise, I enjoy running, yoga, and cross-country skiing.
What advice can you give to someone who would like to learn and grow?
To learn, I personally need to have some mental space and be able to take my time. When I feel like I have to learn something under pressure or between two rushes, I have much less fun and I don't learn as well.
So plan a little time to peruse some recommended reading, some podcasts that interest you. You'll find that you'll have a hard time even stopping.
If you could meet anyone, who would it be?
A Buddhist monk! Their meditation practice and serenity fascinate me.
What's your goal in life?
Always keep growing! Whether it is personally, relationally, or professionally, I like to evolve, improve myself, heal my internal junk, and live new experiences.
And in my job, I never stop learning… I learn from my colleagues with our in-depth discussions on autonomous learning or feedback on our writing and workshops, from my workshop participants with their rich and heartfelt sharing, from my reading on the neuroscience of learning. It's awesome!
Tell us a surprising story about yourself that you haven't shared yet.
I'm pretty much an open book. I can't think of anything at the moment. I'll let you know if I think of anything!
If we want to follow what you do, where can we find you?
Follow me on LinkedIn et join us for our free webinars!